Traditional acts of chivalry frowned upon as 'suspicious'
Traditional acts of chivalry are being frowned upon because "standards have slipped" and a noble gesture is seen as suspicious, according to researchers.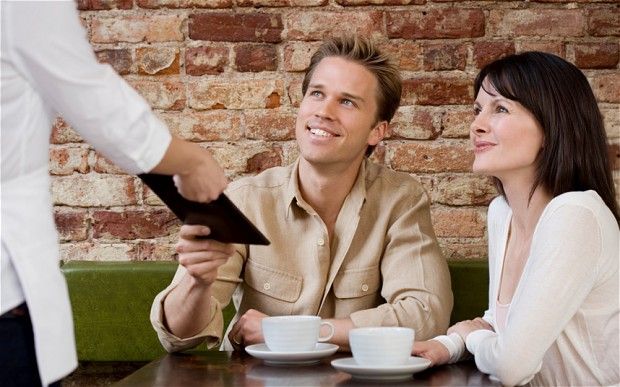 52 per cent of women claimed they would happily pay for entire bill
14th January, 2013
A survey claims most women are striving for independence do not expect token acts of kindness like giving up a seat on a packed bus or carrying shopping bags.
The figures collated suggest that a breakthrough in equality but are disappointing for many bemoaning the lack of good manners regardless of gender.
Mark Hall, Gentleman Creation Officer for Socked.co.uk, said: "Men's standards have slipped so far over recent years that any offer of chivalry from a gentleman knocks a woman off their guard and is viewed with outright suspicion.
"Does an offer of goodwill have to be taken the wrong way?
"If men upped their game across the board good manners would be back on the agenda once again.
"We've forgotten about good behaviour and it's high time gentlemen stood up to be counted – especially on a crowded bus."
The survey carried out by the online service, which helps men to dress well and offers free tips on etiquette, revealed just how much women rejected chivalrous behaviour.
The results said a huge 82 per cent of women preferred to pay for their dinner on a first date and 52 per cent claimed they would happily pay for entire bill.
Men who think women are lumbering heavy shopping bags around should think twice because 89 per cent would not accept an offer to help.
Socked.co.uk, which helps gentlemen dress well and offers free tips in etiquette, believe that good manners cost nothing, and it is up to the gentleman to prove that courtesy is not dead in this second decade of the twenty-first century.
"The figures show a drift away from what is viewed as acceptable behaviour," Hall said, "But why are we letting this happen? Your offer of an open door might be rejected, but so could the chance of friendship, respect, or a second date."
The figures show further strides in equality and independence, but are a disappointment for those to whom traditional displays of good manners are important, whatever the gender.
The survey results said:
82% of women said they would prefer to pay for their dinner on a first date
52% said they would happily pay for the entire bill on a first date
89% of women said they would not take up the offer from a man to carrying their bag
78% would not accept a coat from a man on a cold day
Only 34% of women said they expect men to open doors for them
8% said they would take up the offer of a seat if a man offered. In London, this figure was only 2 per cent.
The survey also came up with some surprising answers:
41% of women agreed men should be able to wear dresses
98% said they would like to be bought flowers, but only 32% had actually received flowers in the past twelve months
source
__________________________________________________
I call total bullshit on this article. Chivalry is most definitely not dead, and this article is just one of many with the same message: that we're all the same now, we can be male
or
female, it's ok for things to become blurred and undefined, let's stop being pleasant to one other, and let's encourage hetero men to wear dresses etc. I think the survey results are bullshit too. C'mon, 41% of women think men should be able to wear dresses? What crap.
Men still open doors for women, and we still thank them. I've never heard of a woman struggling with shopping bags to take the hump if a man offers to open/hold a door, or decline the offer period. Thoughtful behaviour is not viewed with suspicion, and I see men give up their bus seats for pregnant women and the elderly everyday.
Those 41% of women (if they're indeed 'real.') who think men should be able to wear dresses should ask themselves why they hardly ever receive flowers.
Anyway, leaving this article aside for a moment, I wondered how others here feel about chivalry. Is it dead? Do men offer to open doors for women when out and about? What is the response you get when you do? I have no idea what a man wearing a dress has got to do with being chivalrous, but should it be ok for a man to don a frock? Do you agree with the researchers that standards have fallen, and has an offer of help ever been taken the wrong way?