A Whole Other Forum
If you've just joined us you may not know that there is another forum that isn't available without subscription. The Pit is a minimally moderated forum where almost anything goes. It is not for the easily offended as almost any language is allowed and trolling, flaming and post-jacking is allowed and encouraged.
To join the pit, you may follow these simple steps:
Click the User CP link in the welcome block(upper-right hand corner of every page)
In the CP menu, find and click the 'Group Memberships' link: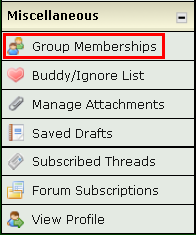 Then find the Pit Fighters group and click the 'Join Group' link:
If you've followed these steps correctly you should see a new forum just above the 'Who's Online' List and board stats(bottom of the main page):

That's all there is to it! Now you can participate in the vulgarity that passes for wit in this cankerous environment. I cannot stress enough that should you be offended easily or averse to terribly vulgar language, you should
not
join this group. If you think we get crazy up on the regular forums, then stay upstairs and
never
go down into the Pit.
Be sure to read the
rules
for The Pit as there are some things that are not allowed.
---
Wildcard is awesome.