I have had quite a few people ask me to upload forum software for them in the past and I was actually quite shocked that so many have trouble with it. It isn't really complicated at all and MyBB has made the instructions fairly clear.
Nevertheless it obviously confusing to some so I have decided to make a tutorial to illustrate the process.

Copying the files
One of the first stumbling blocks seems to be getting the files transfered to the correct location. When uploading a website you have to be careful to place the files in the correct location or they cannot be seen by those viewing those URL. This is especially true of free web hosts like 000webhost.com and others.
Some web hosts provided a directly labeled "public_html" or "root", you just have to read the documentation provided by your web host.
I recommend that you use Filezilla for no other reason than it is simple to use and gets the job done. It has a fairly dated look about it, but functions well to upload/download files, changing file permissions, etc.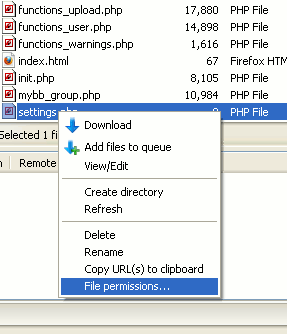 What is CHMOD?
File permissions tell the server who can access the files and folders that make up your website and what they can do with them. To set these permissions in a lot of FTP clients you use a command named CHMOD.

In Filezilla it is much easier, just right-click the file or folder and select 'Change permissions...' from the context menu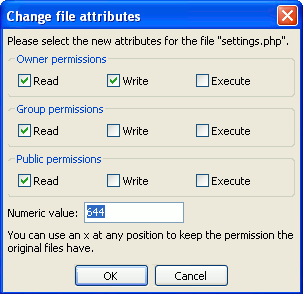 For single files or folders you can simply change the permissions simply.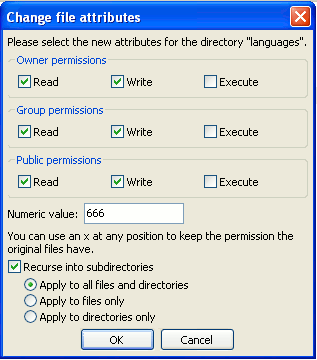 For folders you can also apply the permissions to all files and folders recursively.
Creating a database
Before you can proceed with the installation you have to create an empty database for MyBB to work with. Every host has a little different setup but just find phpMyAdmin in your hosts control panel.
You will need to record all of the following information for later use:
SQL hostname

SQL databasename

SQL username

SQL password
Once you have a database, you can go on to installing your forum.
Installing the forum
Once the files have been copied and given the correct permissions, you still have to install the software. Much like downloading and install program and then running it to set up software on your home computer, MyBB forum software must be configured before it can function as it should with your specific host and configuration.
To install the software, just type the name of your site (the url) and add "/install" to it. Like this:
yoursite.com/install
This begin the install process and a series of pages will guide you through the process. At some point you will be required to link to the database you created earlier. Just be sure that all the details are correct and everything will go smooth. MyBB creates all the tables and populates them for you so you can just click 'Next' and look like a pro
When this process is complete, you can just make you Administrator account and view your forum.
---
Wildcard is awesome.