I bought a couple of used laptops this week.
A friend of mine needed a sturdy laptop that he could bring with him to central America later, to run
AutoCad R14
on.
He asked me to select a laptop for him.
My own laptop PC was really old, an old Toshiba with a 1.5 GHz Celeron in it, so I decided to get a better one for myself while I was at it.
So I researched the available laptops on our local kijiji classified ad web site, and decided to pick up a couple of
HP Compaq model 6910p
.
That is a 2007 model laptop with an
Intel 2 GHz Core2duo T7300
CPU.
They had 2 GB DDR2 RAM and a 160 GB hard drive.
Wireless 802.11 a/b/g/n and Bluetooth was built-in.
Along with 3 USB-2 connectors, Firewire, Cardbus slot, modem, VGA connector, S-video connector, SmartCard, SD card reader, headphone/speaker jack, microphone jack and Gigabit Ethernet.
They are not suitable for gaming, as the
Intel GMA X3100
integrated graphics using a block of main RAM, is too slow for that.
The units have a magnesium alloy upper skin, and include a fingerprint reader.
They weigh just over 2 Kg (5.2 lbs), and were designed to be solid units for secure and reliable corporate use.
They cost between $1200 and $1850 when they were new, dependent on configuration. I got them for $180 each.
They came with
Windows 7 64-bit Professional
and
Microsoft Office 2007 Professional
installed.
They look like this: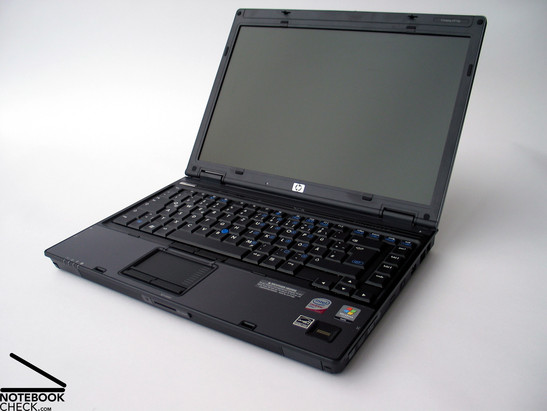 The first task was to upgrade them. That required a quick trip to our local computer parts dealer.
I bought four
Kingston 2 GB DDR2 PC-5300 SODIMM
s at $45 each, and two
Kingston
solid state 128 GB SATA laptop drives at $95 each.
The 1 GB RAM modules in the laptops were then swapped out, increasing the RAM from 2 to 4 GB.
Then we installed all the software we needed onto the laptops.
For web browsing and email,
Firefox
and
Thunderbird
was installed.
For video playback,
K-Lite Mega
codec pack was installed.
The latest
Java
runtime,
Acrobat Reader
and
Adobe Flash Player
was also installed.
We downloaded and installed HP's security suite software, so that we could use the finger print registration and logon capability.
We also ran Microsoft Update until we had gotten all the patches.
There were several hundred of those, that arrived in several large batches.
When all the software was in place,
Uniblue RegistryBooster 2009
was run, to clean up and defrag the registry.
Acronis Disk Director Home
was installed, and used to reduce the size of the C drive to make room for a D drive partition.
The two partitions were set to 75 GB each, and the C drive was named System, and the D drive was named Data.
Once we were happy with the installed software and the configuration, Acronis Disk Director was used to clone the 160 GB laptop drive onto a 128 GB solid state drive.
The software automatically handles the size mismatch, rubber-banding the partitions down in size to fit onto the smaller drive.
The drive cloning was accomplished with the new solid state drive placed in a
Vantec NexStar Hard Drive Dock
as this allows a bare SATA drive to be powered up and connected to a PC via a USB port.
Once the drive cloning (which copied everything, including the boot block and the drive's Windows NT signature identifier string) was completed, the drives were swapped.
The old hard drives were labelled and put away as backups, in case the solid state drives should fail.
With the solid state drive installed, there was a very noticeable improvement in the performance of the laptops.
Bootup, restore from hibernation and application startup became nearly instantaneous.
Doing two identical laptops together saved a bit of time, but it still took a full day of fiddling to get everything installed and configured right.
The end result is two very solid and quite fast laptops with fingerprint logon convenience and security, at a lower cost than buying cheap new flimsy ones.
Total cost, not including all the personal labour involved, was $375 per laptop.
(This post was last modified: 09-05-2013, 12:52 PM by
velvetfog
.)
---
Never underestimate the power of human stupidity.
- Robert A. Heinlein