09-12-2012, 04:39 AM
srijantje


resident reprobate


Posts: 13,471
Joined: Nov 2011
Reputation: 337

WHAT IS HE HIDING?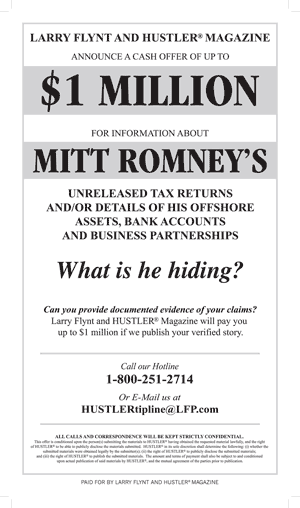 what is he hiding?easy,the guy is a mormon,right?mormons are supposed to give 10% of their income to their church,obviously he didn't,cheating on your church would certainly sink you in the U S of A
do i win a million?
---
consistency is the hobdob
of small minds[
09-12-2012, 04:56 AM
sporkium


-the voice of reason-


Posts: 6,762
Joined: Mar 2012
Reputation: 378
RE: WHAT IS HE HIDING?
that guy doesn't even look trust worthy...
if he get's elected, i'm defecting.
---
"Yeah. I understand the mechanics of it, shithead. I just don't understand how this is any less retarded than what I'm suggesting."

-

Kiley; Housebound.
09-12-2012, 05:01 AM
srijantje


resident reprobate


Posts: 13,471
Joined: Nov 2011
Reputation: 337

RE: WHAT IS HE HIDING?
yeah,well,the other guy LOOKS trustworthy but is as shifty as anything
---
consistency is the hobdob
of small minds[
User(s) browsing this thread: 1 Guest(s)
---
Powered By
MyBB
, © 2002-2017
MyBB Group
. Created by
DSlakaitis
. Buttons By
Legacy